To Provide Quality, Cost Effective & Safe Home Care
As an in-home care provider, Caring Matters Home Care offers affordable, medical and non-medical, one-on-one assistance from experienced caregivers who dedicate their lives to helping others.

Senior Care
Companionship &
Social Interaction

Alzheimer's &
Dementia Care
Specialized Training to
Care for Your Loved Ones

Hands-On
Personal Care
Keeping Pride in
One's Appearance
---

Hands-Off
Non-Personal Care
For Help with Your Daily
Activities & Chores

Morning &
Evening Care
Routines Are Important
to Stay Active & Alert

Sickness/Injury
Recovery Assistance
Recover Faster in a
Familiar Setting
---

New Mom
Assistance
Support for Any Mom to
Help Around the House

Special
Needs Care
Assistance to the
Primary Caregiver

Around the
Clock Care
We Are There When
You Need Us Most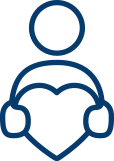 Our Caregivers
Part of our commitment is ensuring that all caring Matters Home Care staff members have a deeply rooted passion for helping others. We don't stop there. Your loved one's safety is paramount.
Interested in Becoming a Caregiver?
We require that all our professional caregivers have at least two years of paid experience and three favorable references.
Caring Matters Home Care of
Berks, Bucks, Lancaster, Lehigh & Montgomery